Subscribe: Google Podcasts | RSS
"Nail Gun Massacre" It's "Nail Gun Massacre" a very fun slasher film where the killer dishes out bad one liners and nail influenced death. Todd Levin ("Conan") and Adam Spiegelman (Proudly  Resents) talk about this great bad movie and what the Sklar Brothers would be like as mass murders.
Look out! Nails! These nails will get you just by going in your hands.
Clips of "Nail Gun Massacre" were taken out of the show b/c the NGM people pulled down other sites that played clips. But I was able to get the ending of "Nail Gun Massacre" off youtube. It's not in English, but it wouldn't make any more sense if it was.
Here's Todd Levin talking about Todd Levin. By Todd Levin:
I grew up in the heaven on earth known as Albany, New York. I currently live in Los Angeles, but lived in NYC for many years before that. When I transplanted myself (and my wife, Lisa) to LA, nearly everyone I met said, "you'll adapt," as if Southern California were some kind of life-changing disease, like diabetes. That said, I think  I'm adapting pretty well. I have a lemon tree, so there's that.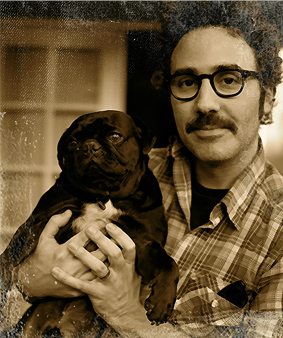 I started performing stand-up comedy since the fall of 2002, or a little earlier or later. I honestly can't remember. (I'm supposed to remember this sort of thing, aren't I? Comedians often talk about their tenure in stand-up the way toddlers boast of their age, down to the minute.) I've been writing for a lot longer. Before I settled into writing, I almost went to art school. What a disaster than would have been. And before that, I acted the fool nearly each and every day.
I was a writer for Late Night with Conan O'Brien, The Tonight Show with Conan O'Brien (remember that???), and The Onion News Network. My writing has also been published in a number of magazines and books that you can read about in the published section of this website. I also co-authored the humor book, SEX: Our Bodies, Our Junk, available now  from Broadway/Random House.
I have performed at stand-up comedy shows, readings, and festivals, and on television. I have appeared on VH-1, as a monologist at The Upright Citizens Brigade's ASSSSCAT, on Comedy Central's Premium Blend, and at the 2006 HBO US Comedy Arts Festival in Aspen, CO. You can also see me woodenly playing a designer for Apple in this popular Onion News Network video.
For 3+ years I co-hosted and co-produced a popular monthly comedy reading series with Bob Powers, called HOW TO KICK PEOPLE, which was featured in Gothamist.com, the NY Post, and the NY Observer, and was a regular "Don't Miss" pick in TimeOut Magazine and Flavorpill. I really miss that show.
When I have something to complain about, I write in my public diary, tremble.com. What a narcissist, right?
About the "Nail Gun Massacre:"
When the actress who was originally hired to play the store clerk didn't show up for the shoot, director
Terry Lofton
got his grandmother–the real clerk at the store where they were shooting–to take the role. She ended up reading her lines straight from the script, which can be seen on the counter in front of her. Later Lofton said she was embarrassed about appearing in "Nail Gun Massacre" when she found out how much sex was in it.
According to director
Terry Lofton
, the original script of"Nail Gun Massacre" was 80 pages long, but when the budget was reduced, the script was cut to a mere 25 pages.
Writer/director
Terry Lofton
said "Nail Gun Massacre" was inspired by some construction worker friends of his who he saw having a "nail gun battle" at a construction site. The scene was re-created for "Nail Gun Massacre".
In an interview with director
Terry Lofton
, he recalled realizing that it would never be taken seriously as a horror movie. Instead, he decided to try to give"Nail Gun Massacre" a more comical tone.
Character error
In the infamous store scene, the cashier woman looks straight at the camera.
Continuity
When one of the construction workers is doing the "nail gun fight" he runs for cover and steps on a rake that shoots up and hits him in the crotch, in a shot right afterwards the rake is missing.
Crew or equipment visible
Crew and equipment reflected in car door near the end of "Nail Gun Massacre" .
Revealing mistakes
When a couple are killed, one of them is clearly breathing.
When the "dad" victim is killed and falls onto the grill, the grill moves forward and he can clearly be seen grabbing the fence to stop from falling forward.
When the killer falls off of a mining machine, his leg can be seen at the bottom of the screen, indicating that he had hit a pad.