Watch: "Star Wars Holiday Special"
"Star Wars Holiday Special" was ridiculou
s marriage of the future of filmmaking and the past of TV variety shows. As kids we were so excited to get more Star Wars at our own home! Now that I think of it, we went from seeing the movie in theater to watching the seeing the special on a little black and white TV!
Here's the special and below an oral history and more background.
You've been warned.It's the infamous Star Wars Holiday Special. It made us all sad. Watch it here.
Don't be an Itchy! Click here to buy a Life Day shirt!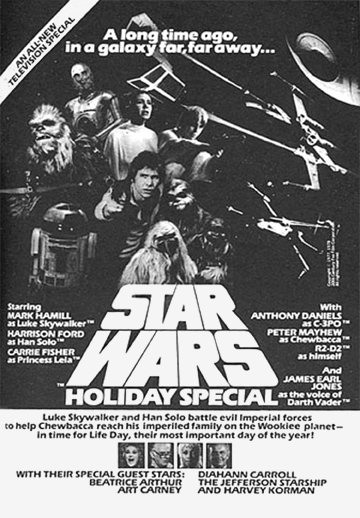 Mental Floss has a great oral history of how the special came to be. Very worth reading. Here are a couple of highlights of the special's low lights…
With a budget of roughly $1 million—the 1977 film cost $11 million—The Star Wars Holiday Special began filming in Burbank, California in the summer of 1978 with a script that had been heavily revised by variety show veterans Bruce Vilanch, Rod Warren, and Mitzie Welch to reflect the Smith-Hemion style of bombastic musical numbers and kitsch. Chewbacca was now trying to race home in time for "Life Day," with his family watching interstellar musical interludes and comedic sketches—like a four-armed Julia Child parody—on a video screen. 
According to onetime Lucasfilm marketing director Charles Lippincott, CBS approached Star Wars distributor 20th Century Fox in 1978 to propose a television special. Fox had seen a boost in box office returns after several aliens from the Cantina scene appeared on Donny and Marie Osmond's variety show; CBS figured the success of the film would translate into a ratings win; Lucasfilm and Lippincott though it would be a good vehicle to push toys.
From:

"Well, I know that George Lucas doesn't like it at all—when I was working on The Illustrated Star Wars Universe, he told me that he would be happy if every copy could be tracked down and burned…"
The Star Wars Holiday Special is a 1978 TV movie set in the Star Wars galaxy. The main storyline of the film transpires on the Wookieehome planet of Kashyyyk. Chewbacca and Han Solo visit the planet to celebrate the Wookiee holiday Life Day with his family, which includes his wife Malla, his son Lumpy and his father Itchy. As Chewbacca and Han are known Rebel agents, they are pursued by the Galactic Empire, who in the process invade Chewbacca's household. The plot is strung together by a series of musical numbers, celebrity appearances, and other variety-show acts, including songs and comedy routines by such 1970s celebrities as Jefferson Starship, Diahann Carroll, Art Carney, Harvey Korman, and Bea Arthur.